PROFILE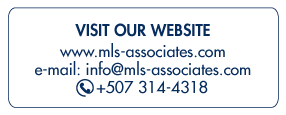 A law firm member of the IBS Marine Group is integrated by a young and energetic group of professionals with over 15 years of experience.
The success of the firm is built upon the professional integrity of its members, the personalized relationship between our lawyers and clients, and by responding to the clients' needs promptly and effectively, while providing them with the highest standards of legal expertise.
MLS & ASSOCIATES covers the full spectrum of maritime-related matters, most notably:
1. Ship Registry
2. Ship Registration of Mortgage/Discharge of Mortgage
3. Obtainment of Fishing License and International License of Transshipment Transport and Support
4. Maritime Litigation:
• Ship Arrest in Panamanian waters and in transit through the Panama Canal
• Cargo Claims
• Maritime insurance
• Collisions and salvage
• Claims before the Panama Canal Authority
5. Counseling in ship sales and financial transactions. Bills of Lading, voyage and Time Charter party contracts, Towage contracts and Salvage contracts.
6. Filing of appeals against fines imposed by the Panama Maritime Authority to any Panamanian Flagged vessel.
7. Filing of application to obtain Non encumbrance and Good Standing Certificates
8. Filing of application to obtain Ship station radio license.
9. Public Registry and Merchant Marine Searches.
10. Ship Registration under the following Flag Administrations:
PANAMA, LIBERIA, BELIZE, HONDURAS, BOLIVIA, JAMAICA, MOLDOVA, VANUATU, TOGO.
INCORPORATION OF COMPANIES
MLS & Associates also offers its clients the incorporation of offshore companies in a diversity of jurisdictions, especially:
PANAMA, LIBERIA, THE BRITISH VIRGIN ISLANDS, BELIZE, MARSHALL ISLANDS, ST. KITTS & NEVIS, JAMAICA, VANUATU.
Our services include the drafting and registration of articles of incorporation, minutes of shareholders and/or directors meetings, issuance of share certificates, powers of attorney, and corporate annual tax payments and nominee directors.
OTHER SERVICES
• Bareboat charter registration (2 years)
• Special registration for delivery or demolition
• Search report of Vessels
• Filing application for discounts in the initial registration
• Continuous Synopsis Record (CSR)
• International Ship Security Certificate (ISSC)
• Minimum Safe Manning (MSMC)
• Tonnage Certificate (ITC)
• Bunker Certificates/CLC Certificates
• Exemption Certificate
• Authorizations
• Approval for Private Security Companies